September's going to be a busy month for YA novels. There's a bunch of them on my TBR to clear out in the next couple weeks.
On September 12 we have Marie Lu's Warcross, a sci-fi story about hacker/virtual bounty hunter Emika Chen who gets herself in deep when she's caught hacking into the opening game of the Warcross Championships, which I'm guessing is like the LoL World Championship if it had the significance of the Olympics. Then Warcross's creator hires her to be his PI/spy in the year's tournament to deal with a security problem–which the blurb promises will evolve into a "sinister plot." Sounds good.

Just look at that cover.
On September 19 we have One Dark Throne by Kendare Blake, the sequel to last year's Three Dark Crowns. The premise is a magically isolated island where triplets are born every generation to the existing queen, who when they reach the age of 16, have to fight each other to the death for the throne. I didn't love the first book, which I rated three stars, having found it a bit of a drag, but after reading the NetGalley sampler of One Dark Throne I have hopes that it'll be an improvement.
On September 26 there's Leigh Bardugo's The Language of Thorns, a collection of short stories inspired by myths and fairytales. Some of them take place in her Grishaverse, while others are stand-alones. There was a sampler I read somewhere, and it was awesome. Combined with the fact that I'm not yet over Bardugo's Wonder Woman: Warbringer, which itself came out just last month, this is a hugely anticipated release for me.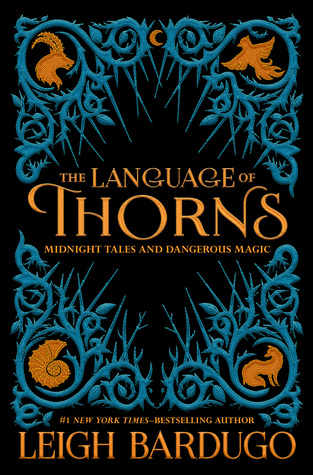 On the same day we also get Invictus by Ryan Graudin, which differs from the others in that I had the fortune to read an ARC (thanks, NetGalley!). You can find my full review here, but in summary, it's an awesome time travel blend of sci-fi and historical fiction with an intriguing premise and eventually plot craziness of the good kind. Farway Gaius McCarthy is the son of a gladiator from 95 AD and a Recorder from 2354 AD, and that in itself is enough to pick up Invictus.
Happy reading!