Happy holidays all!
Hope everyone's enjoying plenty of relaxation, festive cheer and time with friends/family as Christmas approaches. In keeping with my casual resolution to get a few blog posts published over the vacation, today I'm going to be attempting the Sweetener Book Tag. Huge thanks to Ngoza @ Ngoza and Her Books for creating this lovely tag with the best graphics, and of course for nominating me.
Here goes…
BREATHIN': A BOOK YOU CAN'T IMAGINE NEVER HAVING READ OR A BOOK THAT SIGNIFICANTLY SHAPED YOUR READING CAREER.
A Song of Ice and Fire by George R.R. Martin | I'm nominating the entire A Song of Ice and Fire series. As my introduction to adult high fantasy, I can't possibly overstate how much these books changed both the course of my reading tastes and writing ambitions. They were they my biggest obsession for a couple years and still rank up there in my mind, even if the series is never going to be finished (and I'm solidly in the camp that it's not).
R.E.M: A "WOKE" BOOK OR A BOOK THAT EXHIBITED/IMPARTED A LEVEL OF SOCIAL, RACIAL, CULTURAL OR POLITICAL AWARENESS.
Vox by Christina Dalcher | Vox was basically written as The Handmaid's Tale for the Trump presidency. Flawed as the story may be, it hits on all the notes concerning misogyny, xenophobia and runaway populism; it's as woke as a novel can get. Plus it has a pretty intense if not realistic thriller plot.
THANK YOU, NEXT: THE FIRST BOOK IN A SERIES THAT MADE YOU WANT THE NEXT BOOK IMMEDIATELY.
The Cruel Prince by Holly Black | Special love for The Cruel Prince because The Wicked King comes out in 16 freaking days. Since I read The Cruel Prince from NetGalley a couple months before its release, it's been over a year of waiting for the sequel when I wanted it as soon as I finished the first book. It's not quite a cliffhanger ending, but it's so many levels of shocking fabulousness that you can't help needing the next book ASAP. Not long now.
BETTER OFF: A BOOK YOU WISH YOU NEVER BOUGHT/READ
Heart of Thorns by Bree Barton | I don't regret reading most books, but given the choice, I definitely wouldn't be buying Heart of Thorns again. This is one case where not to judge a book by its cover: Despite the gorgeous artwork, the story was a disappointment. Not to mention that the price from Barnes & Noble amounted to almost twice what I'd pay for a paperback from Waterstones at home in England.
EVERYTIME: YOUR FAVORITE RE-READ
The Empress by S.J. Kincaid | I rarely reread books, but the other day I was browsing at Waterstones and had fun revisiting The Diabolic series, of which The Empress is the second book in a planned trilogy. I've been anticipating the finale ever since November 2017, when The Empress was released, but it seems as if the author's gotten stuck trying to wrap things up as the last book has been delayed a couple times. Unlike The Winds of Winter, I do at least have faith that it'll eventually be published.
BORDERLINE: A YET TO BE RELEASED BOOK YOU'VE BEEN EAGERLY ANTICIPATING.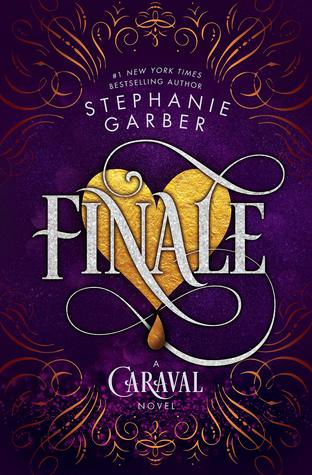 Finale by Stephanie Garber | Since I already mentioned The Wicked King earlier, I'll nominate the appropriately titled finale to the Caraval series this time. I have so many questions after Legendary, it'll take magic for Stephanie Garber to answer them all satisfyingly–fortunately for her, there's nowhere more magical than Caraval.
PETE DAVISON: A BOOK WHERE YOUR SHIP DIDN'T SAIL.
Skyward by Brandon Sanderson | This, I suspect, is less a case of an unsailed ship than a not yet sailed ship. I'm talking, of course, about Spensa and Jorgen, who make for a fantastic rendition of slap-slap-kiss without actually getting to the kiss part. A quick romance between them would have been quite clichéd, probably too much so for Brandon Sanderson, but I'd bet that it it happens eventually. There's plenty of time, as Skyward is only the first of an intended quartet.
THE LIGHT IS COMING: AN AMAZING SERIES CONCLUSION.
Bright We Burn by Kiersten White | I was so worried that Kiersten White would not do justice to the character of Lada. In reality I had no reason to worry at all, because White has proven many times over to be Lada's biggest fan and proved it again with the devastating series conclusion.
SUCCESSFUL: HOW MANY BOOKS HAVE YOU READ THIS YEAR
According to Goodreads, 95! This includes a few DNF'ed titles but also omits books I read for school/uni, so I'd say it's a pretty accurate number.
---
Jennifer @ Sleeping Suburb | Brianna @ Brianna the Bookworm | Claire @ Bookscoffeeandrepeat | Flowers In The Brain
---
As usual, no pressure to do the tag. On the other hand, if you're just passing by and this interests you, go for it! Be sure to link back to this post so I can see your replies.
Thanks for reading, and I hope you enjoyed my take on the prompts. If there are any you agree with or have a different opinion, I'd love to hear about it in the comments. Again, Merry Christmas to everyone!