Deep breath, and…HAPPY NEW YEAR all! Hope everyone's taking care in the post-holiday buzz and, less excitingly, feeling recharged to get back into the grind. 2018 was a wild year for me, both on and off this blog. January will likely be another hectic month with uni starting up again in a week (ahhhh). To kick off the new year with a bang, I'm going to take a look at the month's five most hyped YA releases. As much as I've been digging into other genres lately, there's still a lot to look forward to where the books that first got me into blogging are concerned.
Will I have time to read all of the following titles in the foreseeable future? Probably not. Am I still as hyped for them as I can be with studying, societies and procrastination co-opting various considerable chunks of my time? ABSOLUTELY. Hype, after all, isn't an exhaustible resource.
5. A Curse So Dark and Lonely (A Curse So Dark and Lonely #1) by Brigid Kemmerer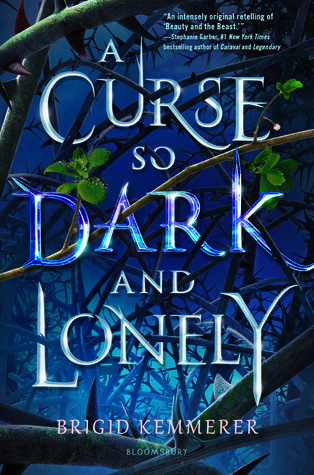 Synopsis:
Prince Rhen, the heir to Emberfall, is cursed. Forced to repeat the autumn of his eighteenth year over and over, he can only be freed by love. But at the end of each autumn he is transformed into a beast hell-bent on destruction, and after so many failed attempts, his kingdom and its people are barely holding on.

Harper's life has never been easy, but she's learned to be tough enough to survive. She won't let anything hold her back, not her cerebral palsy or her mother's deteriorating health. But when she is sucked into Rhen's world, nothing is as it seems. Powerful forces are standing against Emberfall … and it will take more than a broken curse to save it from utter ruin.
Release date: 29 January 2019
Why I'm Hyped: Aside from the fact that this comes out the day before my birthday, and that I have an ARC of it sitting on NetGalley which I should probably get to at some point, A Curse So Dark and Lonely has one of those lovely covers that still, for better or for worse, impels me to give the story a chance regardless of everything else. As another Beauty and the Beast retelling alongside Cruel Beauty, ACOTAR and the rest, this book will have a high bar to reach. I'm hoping, for the sake of its beautiful cover, that it delivers.
Synopsis:
Echo Ridge is small-town America. Ellery's never been there, but she's heard all about it. Her aunt went missing there at age seventeen. And only five years ago, a homecoming queen put the town on the map when she was killed. Now Ellery has to move there to live with a grandmother she barely knows.

The town is picture-perfect, but it's hiding secrets. And before school even begins for Ellery, someone's declared open season on homecoming, promising to make it as dangerous as it was five years ago. Then, almost as if to prove it, another girl goes missing.

Ellery knows all about secrets. Her mother has them; her grandmother does too. And the longer she's in Echo Ridge, the clearer it becomes that everyone there is hiding something. The thing is, secrets are dangerous–and most people aren't good at keeping them. Which is why in Echo Ridge, it's safest to keep your secrets to yourself.
Release date: 8 January 2019
Why I'm Hyped: One of Us Is Lying was a twisty mindfuck of a book that played a pivotal role renewing my interest in contemporary YA. Over one and a half years later, I'm keen to see if Karen McManus will pull off the magic again. Got a secret, can you keep it? Swear this one you'll save. Better lock it in your pocket, taking this one to the grave…
3. Slayer (Slayer #1) by Kiersten White
Synopsis:
Nina and her twin sister, Artemis, are far from normal. It's hard to be when you grow up at the Watcher's Academy, which is a bit different from your average boarding school. Here teens are trained as guides for Slayers—girls gifted with supernatural strength to fight the forces of darkness. But while Nina's mother is a prominent member of the Watcher's Council, Nina has never embraced the violent Watcher lifestyle. Instead she follows her instincts to heal, carving out a place for herself as the school medic.

Until the day Nina's life changes forever.

Thanks to Buffy, the famous (and infamous) Slayer that Nina's father died protecting, Nina is not only the newest Chosen One—she's the last Slayer, ever. Period.

As Nina hones her skills with her Watcher-in-training, Leo, there's plenty to keep her occupied: a monster fighting ring, a demon who eats happiness, a shadowy figure that keeps popping up in Nina's dreams…

But it's not until bodies start turning up that Nina's new powers will truly be tested—because someone she loves might be next.

One thing is clear: Being Chosen is easy. Making choices is hard.
Release date: 8 January 2019
Why I'm Hyped: Kiersten White? That's all I needed to know. This is the woman who gave us The Conqueror's Saga. If she announced that her next book would be a manual on watching paint try, I'd be down to read it. I actually haven't watched Buffy (shocker), but I can think of few better introductions to the franchise than a Kiersten White novel.
2. The Girl King (The Girl King #1) by Mimi Yu
Synopsis:
Sisters Lu and Min have always understood their places as princesses of the Empire. Lu knows she is destined to become the dynasty's first female ruler, while Min is resigned to a life in her shadow. Then their father declares their male cousin Set the heir instead—a betrayal that sends the sisters down two very different paths.

Determined to reclaim her birthright, Lu goes on the run. She needs an ally—and an army—if she is to succeed. Her quest leads her to Nokhai, the last surviving wolf shapeshifter. Nok wants to keep his identity secret, but finds himself forced into an uneasy alliance with the girl whose family killed everyone he ever loved…

Alone in the volatile court, Min's hidden power awakens—a forbidden, deadly magic that could secure Set's reign…or allow Min to claim the throne herself. But there can only be one Emperor, and the sisters' greatest enemy could turn out to be each other.
Release date: 8 January 2019 (I'm starting to notice a theme with these release dates.)
Why I'm Hyped: I'm halfway through an ARC of The Girl King, and this book is pretty damn good. Lu and Min are basically Sansa and Arya Stark with the ages reversed. Both of them brilliant and sneaky in their own way, both of them at the centre of dark secrets. The Imperial China-inspired high fantasy is captured with all the bloodthirsty ruthlessness you'd expect. There's certainly no justice in this world unless the sisters choose to make it for themselves. Here's to hoping that they will.
1. The Wicked King (The Folk of the Air #2) by Holly Black
Release date: 8 January 2019 (Yes, I should probably have just titled this post "My Most Hyped YA Releases of 8 January 2019".)
Why I'm Hyped: This, guys. THIS. This is what we've been waiting for a whole year, more for those of us got an ARC of The Cruel Prince, and it's finally here in the flesh (or should I say the spine?). I can't express how ready I am for Jude Duarte to return and kick some serious ass. Holly Black makes it hard to decide whether I ship Jude and Cardan or want Jude for myself more. Forget about the crown; everyone's favourite kingmaker is where it's at.
---
What are your most anticipated books hitting shelves in January? Are there any due later in the year that you're excited for as well? I'd love to hear about the upcoming releases you have your eye on, be they YA or another genre, in the comments.
Thanks for reading, and once more, Happy New Year! Let's make 2019 a fantastic year full of novel (pun intended) goodness. ❤